The Food Guy visits The Bridge Road Bistro!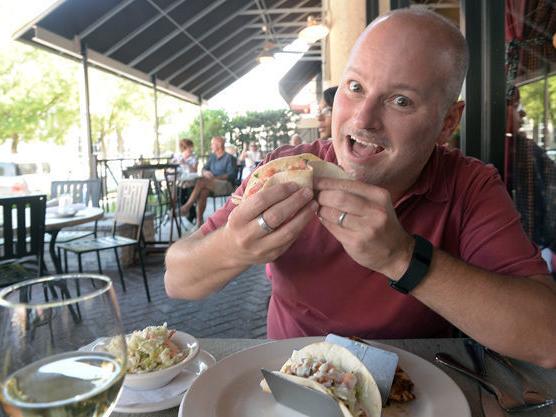 This week, the food guy visited us here at The Bridge Road Bistro in South Hills! He had the following to say!
Last week, I sang the praises of Bridge Café & Bistro in Hurricane.
This week, I'm sharing the love for the similarly named Bridge Road Bistro in South Hills — specifically for the restaurant's new Saturday brunch menu and hours.

A few days ago I was surprised to learn the restaurant had started opening early on Saturdays last month, and even more pleased when I heard the brunch menu changes every week.

I wasted no time popping in this weekend to find options like buttermilk biscuits and sausage gravy with eggs, pumpkin cheesecake pancakes with pumpkin-spiced bacon, and a fried chicken biscuit with egg, cheese and honey butter.

There was a healthy(ish) protein-packed crepe stuffed with scrambled eggs, Swiss, turkey, spinach and tomato, or a decidedly decadent cast iron-baked brioche cinnamon roll topped with buttermilk icing.
Previous weeks have featured stuffed brioche French toast with cream cheese and warm berry compote; a breakfast "boat" baguette filled with potatoes, chorizo, eggs and cheese; corned beef hash with potatoes and baked eggs; an ancho steak protein bowl; lettuce wraps stuffed with quinoa, barley, lemon-glazed chicken and feta; and specialty pancakes like bananas foster and apple spice.

Most brunch entrées include one bloody Mary, mimosa or draft beer in the price.

Regarding those healthy crepes and lettuce wraps, our waitress told us those attending Zenergy spin classes next door on Saturday mornings will always find a protein-packed option on the menu.

That's nice dear, I said, then proceeded to order the exact opposite.

No guilt here, because Chef John Wright's sausage gravy was textbook and the pillowy biscuits it coated were so light and fluffy they were almost cake-like in texture. They told me this is the only dish that's constant on the menu each week, and I can absolutely see why. It also comes with two eggs your way, and my poached ones were pretty but fell a little short by being cooked a minute or two over, making the yolks inside partially hardened.

My 12-year-old got all googly-eyed over the pumpkin cheesecake pancakes, partly due to their satisfyingly sweet taste but mostly because of their ginormous size. These were quite possibly the largest and thickest flapjacks I've ever seen.

We also dug into the cast-iron cinnamon roll, which is every bit as splurge-worthy as it sounds, although we would've preferred a topping that was a little more glaze and a little less icing, because it was so thick and rich.

All in all, though, it was a great mid-morning meal, an awesome soundtrack of laid-back music added a festive feel and service was fantastic. We'll definitely be going back to try new creations in the coming months.
To read the full article, please visit https://www.wvgazettemail.com/life/the-food-guy-new-brunch-at-the-bistro-more-good/article_09a2fd22-81f5-58eb-bb91-23c7a9bb62b3.html